From its built-in smart card to a hardware random number generator and a powerful encryption engine, the GoldKey Security Token provides an array of features and abilities which are utilized by government, enterprise, financial, and other organizations around the world to securely authenticate, encrypt, and share sensitive information on computers, servers, mobile devices, and in the Cloud.
The GoldKey Token enables two-factor authentication for securing access to online resources as well as offering robust AES-256 encryption for data sent over the Internet and stored at rest.
GoldKey features a hardware-based, easy-to-use management system that utilizes Master and GrandMaster tokens to provide a secure method of sharing access to encrypted files throughout an organization.
The GoldKey Token is built to last. Its stainless steel case is filled with an industrial grade epoxy that not only seals the internal circuitry water tight, but deters tampering and provides added strength. Unlike other security devices, GoldKey does not require a battery for power; it instead draws power from the USB port. This means it can last and last in the field.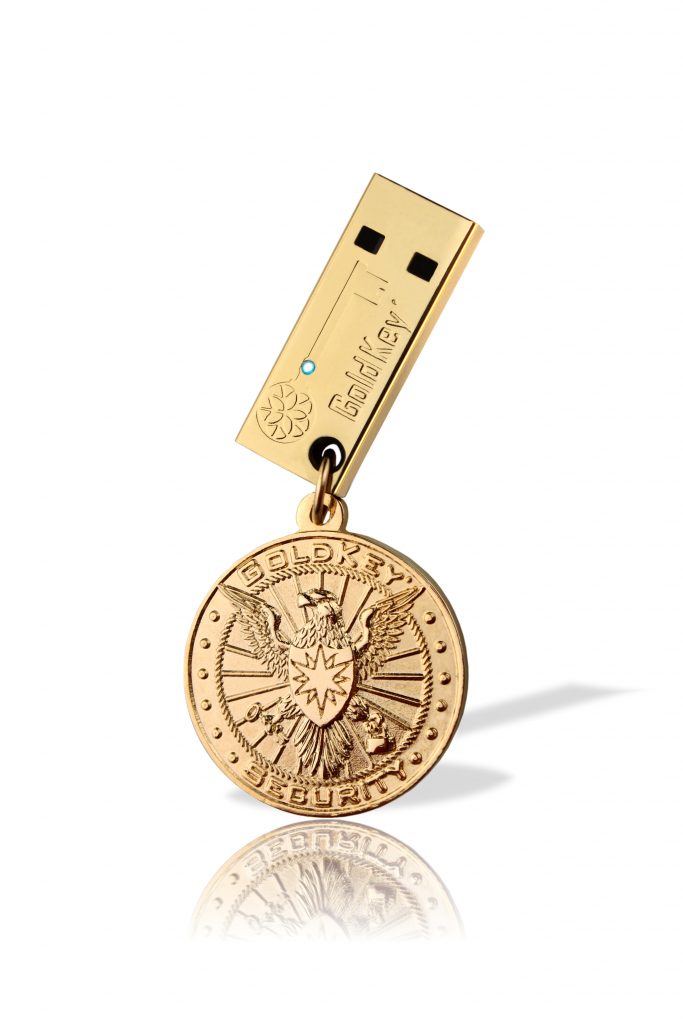 Prevent Data Loss
GoldKey uses a three-tier Hierarchical Key Management System to prevent data loss due to accidental lock-outs. GrandMaster / Master Tokens may securely access data encrypted by their registered tokens, duplicate a lost token, or reset a PIN.  Learn More about GoldKey Hierarchical Management
Secure Cloud Storage
GoldKey enables secure storage and sharing of data in the Cloud. Data is encrypted and transferred over the internet to a GoldKey Vault which is only accessible with your GoldKey and PIN.
Encrypt Local Files and Folders
Create a Secure Drive on any computer. Files placed in the Secure Drive are automatically encrypted. To unlock a Secure Drive, the correct GoldKey must be plugged in and the correct password entered, or the data is inaccessible.  
Lock Computer Login
Replace Windows passwords with two-factor authentication by requiring a GoldKey and PIN to access a computer's user account. This can be done independent of Active Directory or a certificate manager, making it well suited for air gapped (standalone) computers and networks. Accounts can also be secured by a GoldKey group that will allow all members of that group to access the same user level account, while maintaining an individual token and PIN for each user.
Self-Defending
GoldKey automatically detects unauthorized attempts to access your data. In order to halt an attack, your GoldKey will become disabled after ten attempts to guess your PIN.
Specifications
| | |
| --- | --- |
| Part Number | GK-011A |
| Casing | Stainless steel, waterproof, tamper resistant and tamper evident |
| Supported Operating Systems | Windows: 10, 8, 7, Vista, XP Mac: Mac OS X v10.6 or higher |
| Compliance | FIPS 140-2 certified |
| Certifications | CE, FCC |
| Standards | NIST PIV spec SP-800-73-2 and SP-800-73-3, X.509 v3 certificate storage, CCID, USB 1.1 |
| Certificate Storage | Up to four X.509 certificates (up to twenty-four X.509 certificates with Windows Smart Card Minidriver) |
| Security Algorithms | AES, 3DES, RSA-1024, RSA-2048, ECC Curve P-256, and ECC Curve P-384 |
| Supported Data Objects | Card Capability Container, Cardholder Unique Identifier, X.509 Certificate for PIV Authentication, Cardholder Fingerprints, Security Object, Cardholder Facial Image, Printed Information, X.509 Certificate for Digital Signature, X.509 Certificate for Key Management, X.509 Certificate for Card Authentication, the Key History Object, twenty Retired X.509 Certificates for Key Management, and Cardholder Iris Images |
| Physical Dimensions | 30 x 12 x 4.5 mm (1.18 x 0.47 x 0.18 in.) |
| Operating Temperature | 0°C to 70°C (32°F to 158°F) |
| Storage Temperature | -40°C to 85°C (-40°F to 185°F) |
| Humidity Rating | 0-100% without condensation |
| Connector | USB type A (Universal Serial Bus) |
| Life Expectancy | Over 10 years |