Interforce Military Security System
Warfighter Authentication & Secure Communication (WASC)
The Interforce Military Security system has been developed in response to the need identified by the Department of Defense for a coordinated enterprise-level approach to cloud infrastructure to make it possible for warfighters and leaders to be able to make critical data-driven decisions at "mission-speed".
A most critical factor for consideration during the expansion to a coordinated system is Information Security.  While the coordinated approach provides critical capabilities, data breaches are potentially more substantial and therefore more catastrophic.  The evolution to a coordinated approach can only be contemplated in the context of the deployment of better security methods and technology.  The Warfigher Authentication and Secure Communication System provides an integrated security solution.
Today's Warfighters rely on WASC with their lives…
Today's warfighter needs extremely secure and extremely reliable authentication, data processing and communications systems.
  Developed by engineers at GoldKey, the 
WASC Interforce Military Security System utilizes next-gen security technology specifically designed for the severe and mission critical environment of the battlefield.
It is the first military product to utilize B
2
Cryptography.
The WASC solution offered by GoldKey provides important benefits to the Department of Defense (DoD).
1) It is the only hardware-based security system to provide intrinsic authentication.  It eliminates man-in-the-middle (MITM) attacks.
2) Can be used to remotely manage security credentials based on a chain-of-command hierarchy.
3) Makes email, text, telephone and video communications extremely secure even over public networks when necessary.
4) Deploys on top of existing security methods and solutions.
5) Protects sensitive data in servers even when captured in the field by insurgents.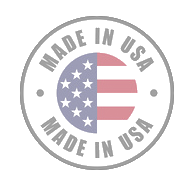 6) Utilizes nano-latency networking technologies developed under SBIR Army Contract # W31P4Q-12-C-0118, improving network response times by orders of magnitude making it possible for warfighters and leaders to be able to make critical data-driven decisions at "mission-speed".
7) Provides the ability to make sensitive data available in the battlefield, while restricting the data decryption capability upon demand from central command.
WASC
The next-gen security system built on B2 Cryptography
Extremely secure and reliable networking including authentication and chain-of-command management
Cracking the Key Exchange Problem
For over 30 years, the military has relied on Public Key Infrastructure to protect critical communications and data assets.
Certificate Authorities have been developed to fill the gaping weakness of PKI of not providing Authentication.
Certificate Authorities do nothing to solve the problem though, as the trustworthiness of the CA itself is still not guaranteed for any particular individual.
It is a form of argument from authority fallacy.
For actual trustworthiness, personal verification that the certificate belongs to the CA and establishment of trust in the CA are required.
This is usually not possible.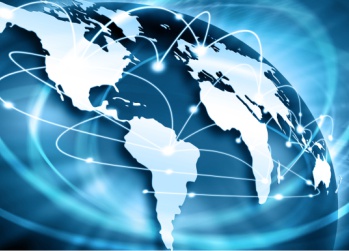 A new security infrastructure has been developed which cracks the age old problem of securely exchanging encryption keys, and which also provides a robust authentication capacity.  The new technology is called B2 Cryptography.  It utilizes portable security tokens to provide the unprecedented new level in data protection while supporting a hierarchal structure so the chain-of-command has control of informational assets.
GoldKey Corporation is the first to deploy products based on B2 Cryptography.  The GoldKey security products have been evaluated by the U.S. Navy and are now fully deployed.
GoldKey Tokens with B2 Cryptography 
Hardware-Based Secure Key Management and Exchange
The GoldKey approach relies upon a hardware-based solution wherein the encryption keys are created, exchanged, and managed inside hardware tokens and therefore not vulnerable to network nor software attacks.  This approach is a major breakthrough in technology since its hierarchal structure puts complete control of information assets in the hands, the chain-of-command.  Not only does this solution provide a heretofore impossible level of security, but while access permission can be easily and quickly authorized, access to assets is never lost.
The GoldKey security solution is the perfect balance between confidentiality, integrity, and availability.  It is designed to be utilized on top of all existing security solutions, and even the technicians responsible for designing and maintaining systems do not have control over or access to sensitive information.  The system architecture, based on GrandMaster, Master, and User Tokens, is all contained in separate hardware components that can be carried upon the person and which cannot be compromised.  This solution is designed so the chain-of-command has control of informational assets.
GoldKey Master Tokens and Hierarchical Encryption Management
a Chain-of-Command Management Scheme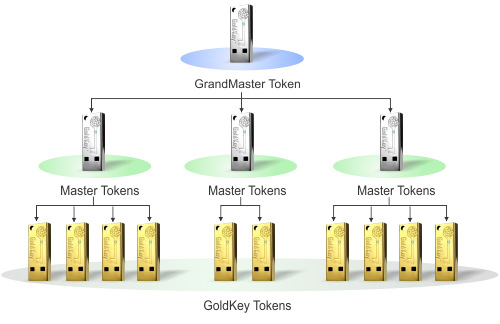 GoldKey Security Hierarchy
Built into GoldKey Tokens is a secure means of distributing authority following a chain-of-command based hierarchy.
Those in command receive Master Tokens enabling them to distribute group encryption keys to users under their authority to allow access to specific secured resources.
To access these resources the user must authenticate with their GoldKey token and PIN.
Privileges may be remotely revoked by the Master at any time and instantly access to the resource is denied, even if the token is present and the PIN is ascertained. 
Strategic management of sensitive data through the chain-of-command with a hardware device insures data is only accessible to those individuals that require and have authority to access the information.
Impenatrable Security
FIPS Certified and RugGedized for the Battlefield
 A GoldKey token is a ruggedized device, filled with an industrial grade epoxy that not only seals the internal circuitry water tight, but deters tampering and provides added strength.   The 
Token does not require a battery for power, it instead draws power from the USB port. This means it can last and last in the field.
GoldKey Tokens are designed and manufactured in the US for security and quality assurance.
• FIPS 140-2 validation with security level 2.  Level 3 achieved for key aspects including physical security, EMI/EMC, and design assurance.
• Stainless steel enclosure with industrial-grade epoxy filling for tamper-resistant/evident, waterproof design
• No internal battery required, ensuring extended lifetime 
• Supports standard USB interface
• Designed and Manufactured in the USA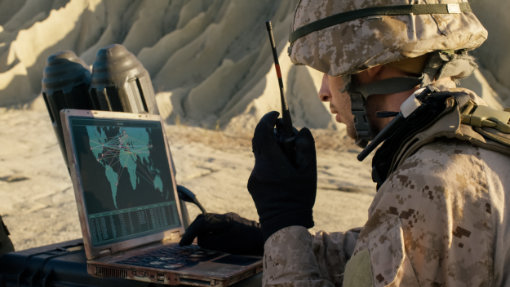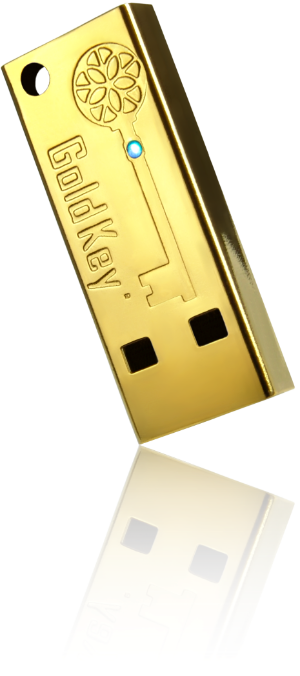 For when a public network is all you've got…
GoldKey Secure Data & Communications
End-to-End encryption for data access and communications, even over public networks

Data, Email, Voice, & Video Chat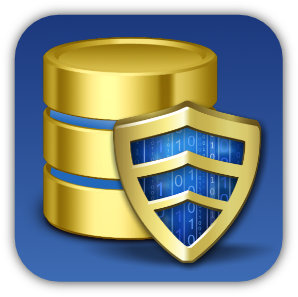 GoldKey Vaults
Encrypted, Sharable Cloud Storage
How GoldKey Protects Files
Files are AES-256 encrypted before being transferred over the Internet to a high-security data center where they remain in an encrypted state inside a GoldKey Vault. Vaults utilize GoldKey two-factor authentication to ensure that only authorized users have access to confidential files – and no one else.
GOLDKEY USB SECURITY TOKEN
For maximum security, users can sign in with their unique PIN and an authorized GoldKey USB Token. By requiring users to sign in with both a PIN and a token, GoldKey achieves strong two-factor authentication.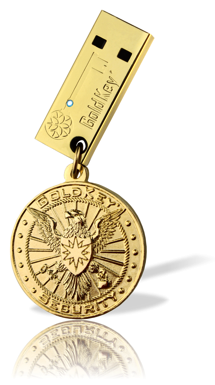 GOLDKEY SOFT-TOKEN
GoldKey Soft-Tokens can be downloaded and installed on the iPhone/iPad, Android devices, as well as Windows and Mac computers. Users may sign in with their unique PIN from a device that contains an authorized Soft-Token. This makes it possible to achieve strong authentication, even on devices that do not have a USB port.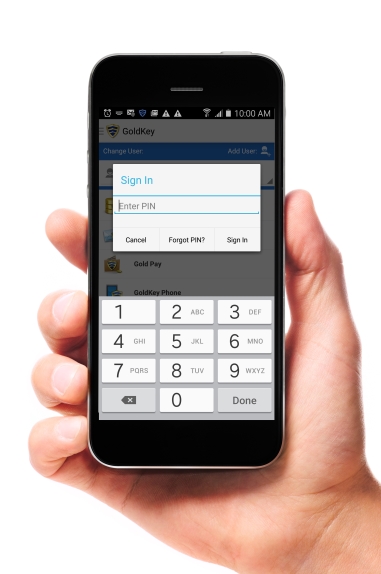 GoldKey Vault Features
Chain-of-Command Management for Sensitive Data
GoldKey Vault's simple but powerful management interface allows a chain-of-command management protocol for access to sensitive data, putting control into the hands of those that have authority, without the need for IT involvement.  Vault Management actions are logged for oversight and secuirty monitoring purposes.
Multi-Device Access — All Secured with GoldKey
Encrypted files stored within an GoldKey Vault are accessible from computers, smartphones, and tablets. GoldKey's Soft-Token technology enables access on mobile devices without compromise to security.
Secure File Sharing with User Groups
Access to encrypted vaults may be given to as many uses as required though GoldKey groups.  As many groups as needed may be created to provide sets of users with different levels of access, or even temporary access to specific vaults.   A member's access to a group may be revoked at any time, even remotely, and the vault is instantly unaccessible.
Access History & Logs
GoldKey Vaults provide vault access monitoring, critical for handling of sensitive data.  GoldKey Vault's access history logs every time a token signs into a Vault. The access report includes the user's IP address, timestamp, and every file that was accessed, uploaded, deleted, or modified.
Automatic Backup of Files 
Files stored in GoldKey Vaults are backed up automatically, to protect critical data and insure that it is always available.   Even when backed up, files remain fully-encrypted and secure.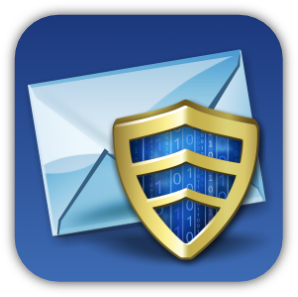 GoldKey Mail
Encrypted Email Communications
The GoldKey Mail service is secure, fast, easy to use, and has been optimized to help users better read, organize, and send email.  GoldKey Mail offers real privacy for email, a no-spam inbox, secure calendar, and easy-to-use group email tools. Email is encrypted in motion and at rest in a secure GoldKey Vault, and can be securely accessed across multiple devices. GoldKey two-factor authentication eliminates man-in-the-middle attacks and other email hacking techniques ensuring that only the intended user is granted access. 
How GoldKey Protects Email
GoldKey Mail employs two independent layers of security to ensure that email messages remain private:
Two-Factor Authentication
To access a secure GoldKey Mail account, a user must sign in using two-factor authentication. In addition to entering a PIN, users sign in using a GoldKey USB token or a GoldKey Soft-Token, which can be set up on a phone or computer without the need for an additional hardware device.
 Email Encryption
GoldKey Mail takes the privacy of email seriously and never stores copies of mail on user's devices. Email messages are securely transmitted and stored in an encrypted state in secure GoldKey Vaults.  When the GoldKey Token is removed, there is no way to access the data.
GoldKey Mail Features
Access Email on Multiple Devices
Securely access email from computers, phones, or tablets. Since GoldKey Mail is cloud-based, all your devices stay in-sync automatically.
Secure Calendar
GoldKey Mail includes a secure calendar that makes it easy to keep track of events and notify groups of users of scheduling changes or activities.  Create reoccurring or one-time events, with or without attachments, and share them securely.   Users have the ability to acknowledge invitations and you'll be kept informed about their decisions as they are made.
SPAM-Free Inbox
With GoldKey Mail, an inbox can only be reached by invitation, or by another secure email account. When email arrives from an unverified source, it is placed in the Junk folder to ensure that the only mail reaching the inbox is mail the user wants to receive.  If an important email from an unverified sender is sent to the Junk Folder, the user has the option of marking the sender's address or the entire domain as "not junk." Once marked, it will be moved to the inbox and future email from that sender will be delivered directly to the inbox.
Group Mail, Sharing, & Collaboration
Emails can be easily sent to entire groups of contacts using GoldKey Groups.  These groups are used for securely sharing data, both in GoldKey Vaults and in your inbox.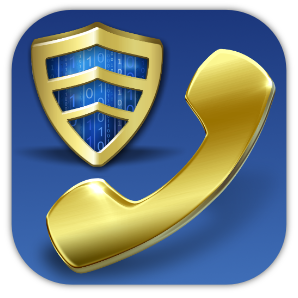 GoldKey Phone
Insanely Secure Communications
Communicate securely and conveniently from mobile devices with other GoldKey Phone users.  GoldKey Phone provides strong end-to-end encryption for messaging, phone calls, and video chat, even over public networks.
GoldKey Phone Features
Insanely Secure Encryption
GoldKey Phone utilizes AES 256-bit end-to-encryption with a unique military-grade encryption key for each communication session. 
Keep Private Things Private
All communications are encrypted and hidden from data carriers, network providers, and hackers.
No Phone Number Needed
Calls are transparently initiated based on a secure GoldKey ID, instead of a cell phone number.  Just select the contact you want to call/message to initiate a secure communication.
GoldKey Authentication
All communications use GoldKey authentication for trusted verification of users.
WiFi Calling Enabled
Fully encrypted conversations over Wi-Fi, even over unsecured or public WiFi hotspots.  Seamlessly and securely transition between Wi-Fi and cell service when Wi-Fi is out of range.   
Siri Integration for iPhone
Allows hands-free voice activated "crypto commands" "Crypto Call Andrew Johnson" or "Crypto Video Chat with Janet"
Encrypted Cloud Storage for Messages
Text and voice messages are securely stored in GoldKey Vaults, protected by GoldKey Authentication and AES-256 Encryption.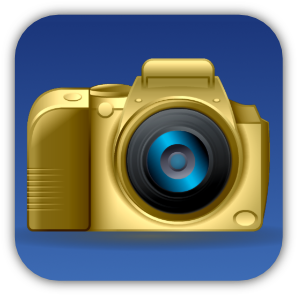 GoldKey Camera
Encrypted Photos and Videos
In today's communication senario a picture can be worth a thousand words.   The GoldKey Camera App interfaces with GoldKey Vaults to provide secure and sharable data storage for encrypted images and videos.  Snap a photo and instantly it is encrypted and uploaded to a secure GoldKey Vault.  Links to encrypted photos or videos can be securely shared with authorized users that have been given access to the vault.  
GoldKey Camera Features
Hidden from other Apps
Photos and videos are never stored in the normal photos folder on mobile devices, so other apps do not have access to them.  This ensures photos are never published accidentally to social media sites or backed up to Google or iCloud storage.
Safe in GoldKey Vault
Every photo or video taken with GoldKey Camera is automatically encrypted and moved to your secure GoldKey Vault Cloud Storage.  In the vault, photos remain encrypted and protected with GoldKey Authentication.  Files are securely and automatically backed up, so data is always protected and available.
Send Links not Photos
Sending a link to an encrypted image/file requires users to authenticate before they can access the information, keeping potentially sensitive information secure and off local devices.  If required, a users access to a vault can be revoked and and even links to encrypted files they have in their possession are no longer accessible.
Available Everywhere
With GoldKey Vaults, encrypted files can be accessed securely from multiple computers and mobile devices, even over public networks.
Integrated Hardware Security Solutions
GoldKey is built into fs•ix servers and WideBand Nano-Latency Concentrators.
Integration at this level provides wire speed end-to-end encryption for data transmission and secure, highly available, data storage — critical for military deployments and unachievable with other software-based security solutions.
fs•ix
High-Security Data Center Solutions
To provide a robust and effective solution, the key exchange and access technology is only part of the overall system.  For this reason, the world's first, high security server has been developed by the fs•ix server division of GoldKey Corporation.  The fs•ix server is unique in the sense that the hardware-based symmetrical key management technology has been built into each server.   The servers themselves are state-of-the-art, high performance units with a built-in UPS to sustain operation during power outages.  They also provide advanced data redundancy and backup capabilities to prevent data loss and to provide data availability even during network outages.   These advanced features are managed by a Network Management Unit (NMU) which also utilizes hardware-based security to prevent tampering and outside threats.
WideBand
High-Speed Nano-Latencey Networking
The final leg of a secure information system is network performance.
Realizing the importance of network performance in warfare environments, the US Army contracted with the WideBand Networking division of GoldKey for the development of the first nano-latency networking equipment.
(Contract # W31P4Q-12-C-0118)

GoldBook Pro
2-in-1 Laptop Computer
GoldKey also manufactures the GoldBook Pro, a ruggedized 12 inch, two-in-one computer that doubles as a laptop and as a tablet.
The GoldBook Pro utilizes the Windows 10 Pro operating system and comes with GoldKey security built in.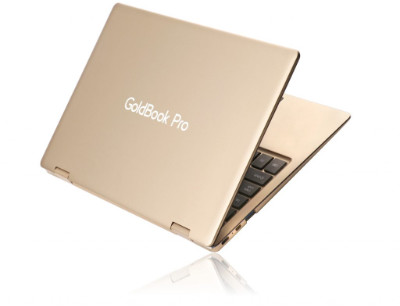 Designed and Manufactured in USA
GoldKey products are proudly designed and manufactured in the USA to ensure quality and for added assurance that GoldKey products are reliable and secure.
Protecting our warfighters is a mission we take seriously and extreme detail and care is utilized to make sure GoldKey products meet the highest security and quality standards.