Custom Solutions & Deployment Team
Many security problems facing today's enterprise are mission critical and complex. Often, the one-size-fits-all solutions provided by the market do not satisfy the specific requirements of an organization.
In an effort to assist organizations in their special security needs, CybrSecurity Corporation has created the GoldKey Custom Solutions and Deployment (CSD) Team. The mission of the GoldKey CSD Team is to provide enterprise level customers with custom solutions to satisfy comprehensive security needs. Their method is to utilize the cutting-edge technology development capabilities of the senior technical team at GoldKey to engineer custom solutions that satisfy specific security needs and requirements.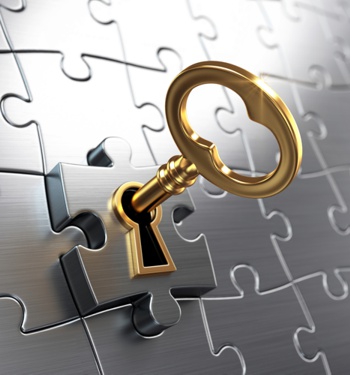 Discovery Session
The first step is for enterprise customers to hold a discovery session with the Team to discuss the specific needs of the organization. This initial session is often conducted by telephone or video chat. During the meeting, the special security problems facing the organization are communicated to the GoldKey CSD Team and possible solution strategies are discussed. There is no fee for the initial discovery meeting.
GoldKey Custom Solutions customers are taken on a limited basis depending on the availability of technical resources and personnel.  After analyzing the special security needs of the customer, a Custom Solutions Development Proposal is submitted by the GoldKey CSD Team outlining the proposed solution and the estimated costs for specific tasks of development and deployment. With the customer's approval of the first Task, the GoldKey CSD Team will begin the custom design process.
Deployment
After Custom Design and Development has been completed, the project will move into the actuation phase. A deployment team will be assembled consisting of employees of the customer, members of the GoldKey CSD Team, and if required, outside consultants and technology providers. In most cases, deployments can be accomplished on a fixed-price basis so that the customer can have control over costs from project initiation.