GoldKey Vaults
Encrypted Cloud Storage Service
Securely Store and Share Your Files in the Cloud
GoldKey Vault's simple but powerful management interface puts you in control of managing access to your sensitive data in the Cloud.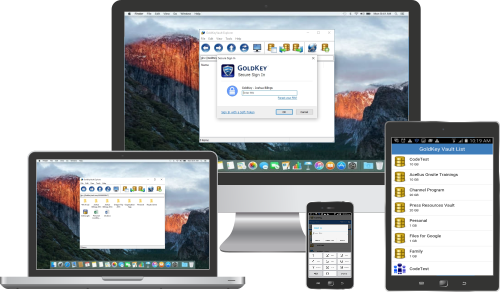 Trusted by government agencies and businesses in over 40 countries worldwide
GoldKey Security Solutions help customers safeguard critical data and help ensure regulatory compliance. » About GoldKey
How GoldKey Protects Your Files
Files are AES-256 encrypted before being transferred over the Internet to a high-security data center where they remain in an encrypted state inside a GoldKey Vault. Vaults utilize GoldKey two-factor authentication to ensure that only users you authorize have access to your files – and no one else.
Authentication Options:

GOLDKEY USB SECURITY TOKEN
For maximum security, users can sign in with their unique PIN and an authorized GoldKey USB Token. By requiring users to sign in with both a PIN and a token, GoldKey achieves strong two-factor authentication.

GOLDKEY SOFT-TOKEN
GoldKey Soft-Tokens can be downloaded and installed on the iPhone/iPad, Android devices, as well as Windows and Mac computers. Users may sign in with their unique PIN from a device that contains an authorized Soft-Token. This makes it possible to achieve strong authentication, even on devices that do not have a USB port.
GoldKey Vault Service Features
GoldKey Vault's simple but powerful management interface puts you in control of managing access to sensitive data, without the need of IT involvement.
All Your Files, On All Your Devices
Encrypted files stored within a GoldKey Vault are accessible from your computer, smartphone, and tablet. GoldKey's Soft-Token technology enables access on mobile devices without compromise to security.
Secure File Sharing with User Groups
Share your encrypted vaults with as many people as you like.  Create groups to organize your vaults and how and you share them.  Create as many groups as needed to provide sets of users with different levels of access, or even temporary access to specific vaults.
Access History & Logs
With GoldKey Vault, you can know who accessed your files and when. GoldKey Vault's access history records every time a token signs into a Vault. The access report includes the user's IP address and documents every file that was accessed, uploaded, deleted, or modified.
Automatic Backup of Files in Your Vault
Files stored in your GoldKey Vault are automatically backed up, helping to protect your business from costly data loss. Even when backed up, your files remain fully-encrypted and secure.
Start Protecting your Data with GoldKey
Take the first step today and request a quote for GoldKey Vault.
Call: (888) 663-2471