GoldKey Vaults
Encrypted, Sharable Cloud Storage
Securely store and share your files in the cloud.   GoldKey Vault's simple but powerful management interface puts you in control of managing access to your sensitive data in the Cloud.  Files are AES-256 encrypted before being transferred over the Internet to a high-security data center where they remain in an encrypted state inside your GoldKey Vault. 
GoldKey Tokens for Secure Access and Management
GoldKey Tokens with b² cryptography are utilized to provide secure access and management for GoldKey Vaults allowing users you authorize access to your files  – and no one else.  To access a GoldKey Vault the user must sign in with their unique PIN and an authorized GoldKey security token.  By requiring users to sign in with both a PIN and a token, GoldKey achieves strong two-factor authentication.
GoldKey Tokens are available in a portable GoldKey Card or USB token and as a downloadable token that can be installed on Windows or Mac computers and iOS and Android devices.   Installed tokens provide a convenient and secure way to achieve strong authentication across many platforms and on devices that do not have a USB port.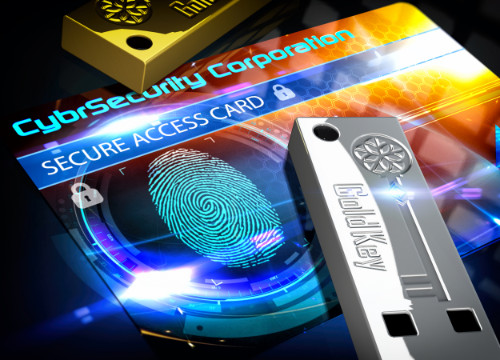 GoldKey Tokens are available in USB and Card form factors.
GoldKey Vault Features
Hierarchical Management for Sensitive Data
GoldKey Vault's simple but powerful management interface allows a chain-of-command management protocol for access to sensitive data, putting control into the hands of those that have authority, without the need for IT involvement.  Vault Management actions are logged for oversight and security monitoring purposes.
Multi-Device Access — All Secured with GoldKey
Encrypted files stored within a GoldKey Vault are accessible from computers, smartphones, and tablets.   Simply install and activate a GoldKey Token on your device.  The token may then be used in conjunction with your PIN to access your GoldKey Vaults and other secure GoldKey Services. 
Secure File Sharing with User Groups
Access to encrypted vaults may be given to as many uses as required though GoldKey groups.  As many groups as needed may be created to provide sets of users with different levels of access, or even temporary access to specific vaults.   A member's access to a group may be revoked at any time, even remotely, and the vault is instantly inaccessible.
Access History & Logs
GoldKey Vaults provide vault access monitoring, critical for keeping data secure and meeting regulatory compliance for sensitive data.  GoldKey Vault's access history logs every time a token signs into a Vault. The access report includes the user's IP address, timestamp, and every file that was accessed, uploaded, deleted, or modified.
Automatic Backup of Files 
Files stored in GoldKey Vaults are backed up automatically, to protect critical data and ensure that it is always available.   Even when backed up, files remain fully-encrypted and secure.