Locking an account with GoldKey can be done in two ways. The technique described in this application note applies to Windows Vista and higher, on computers that are not part of an Active Directory. Users of an Active Directory should enroll for a Smart Card Login or equivalent certificate from their organization's Certificate Authority.
To lock an account, log in as that user and press Control-Alt-Delete. Click on Change a password, and then on Other Credentials. Next, click on Enable GoldKey Login and insert the GoldKey you would like to use to lock the account.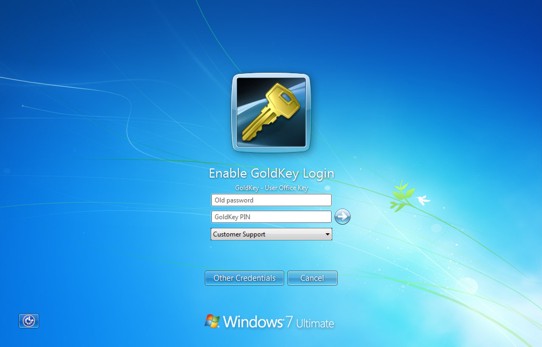 Locking a Windows Account
You will be required to enter the GoldKey PIN and the current Windows password in order to lock the account. If you would like to allow a group to access this account, select the group from the list provided.
Note: Regardless of group settings, the Master or GrandMaster your token is registered to will be able to log into or unlock the account.