Clearing a GoldKey will make previously locked data inaccessible to that token. If the GoldKey has not already been registered to a Master, anything it has already encrypted will become inaccessible. Data that unregistered tokens have encrypted should be copied out of Secure Drives before the GoldKey is cleared.
Note: Even after clearing a GoldKey, the registered Master will be able to access locked data, as will the members of any associated groups.
To clear the token, select Clear GoldKeys from the GoldKey Management Menu, insert the token you would like to clear into the computer, and click the Apply button at the bottom of the dialog. You will be notified when this process is complete.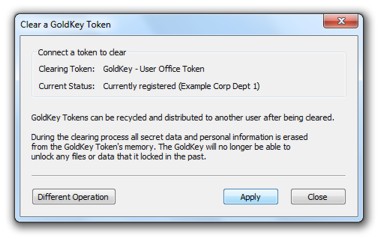 Clearing a GoldKey