GoldKey Security Tokens
USB Smart Card with PIV Implementation – Level of Assurance 4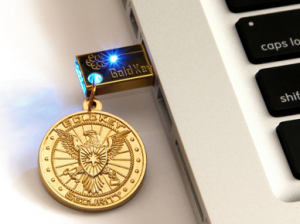 GoldKey Tokens have a built-in smart card and fully support the Personal Identity Verification (PIV) standard. The National Institute for Standards and Technology (NIST) initiated the PIV standard to provide improved authentication of Federal employees and contractors accessing Federal information systems.
Level of Assurance 4
GoldKey Tokens use the PIV standard to meet the technical requirements for Level of Assurance 4. Recent federal mandates require Level of Assurance 4 in order to securely authenticate users on Government networks and systems.  The two approved methods of authenticating users that meet the Level of Assurance 4 requirements are Common Access Cards (CAC) and PIV Tokens such as GoldKey.
Built-in PIV Support
The GoldKey implementation of PIV allows for easy deployment of two-factor authentication. GoldKey tokens support the built-in PIV functionality already natively implemented in Windows.  The user simply inserts the GoldKey Token into the Windows computer and it is automatically recognized and ready to use without additional drivers or software.  The GoldKey Token can be managed through Windows Control Panel under devices and printers.
For deployments in MAC OSX, additional third party support is now available for smartcard services.
Questions? Call: (888) 663-2471
Advantages of Using GoldKey Tokens
Hassle-free certificate auto-enrollment and auto-renewal
Substantially faster smart card operation
Ruggedized design for extended product life
Convenient USB form factor
No card reader required
No token expiration
No Annual maintenance / licensing fees