GoldKey Security Tokens
Eliminate Username & Password Authentication on Air Gapped Computers and Networks
In an effort to support the enhanced cybersecurity posture of the US Department of Defense and the US Navy, in eliminating username and password-based authentication, GoldKey Corporation offers a simple and secure solution for providing two-factor authentication on air gapped (standalone) computers and networks.  These systems make up a significant portion of the tactical and non-tactical computers that must be secured with a two-factor authentication to meet recent cybersecurity requirements.
For More Information Call: (888) 663-2471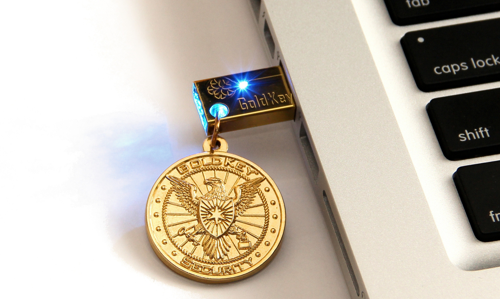 GoldKey Secure Two-Factor Login
With GoldKey Secure Login technology, users are required to insert their GoldKey Token at the time of login and provide their personalized PIN to authenticate with two-factor authentication.  Both general user and privileged accounts can be secured in this way. Administrators with privileged accounts can continue to manage the computer and user level account access.
Accounts can also be secured by a GoldKey group that will allow all members of that group to access the same user level account, while maintaining an individual token and PIN for each user.
GoldKey Hierarchical Management
Unlike other security solutions currently available, GoldKey tokens are managed by Master and Grand Master tokens.  This hardware management feature, which is unique to GoldKey, provides a simple yet secure way to manage GoldKey Tokens and AES-256 encryption keys.  It also facilitates the secure ability to create GoldKey groups for shared access to resources such as encrypted data or a secure login.  This powerful hardware management feature provides the user with a here-to-fore unavailable level of security while at the same time, maintaining usability and ease of deployment.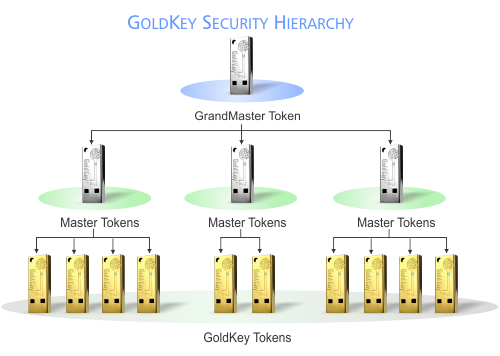 GoldKey Encryption
Built into the GoldKey Tokens is a powerful encryption engine that utilizes military grade AES-256 Bit encryption to protect sensitive data.  With this encryption capability a user can create a GoldKey Secure Drive on a hard drive, flash drive, or any other storage media.  The data stored inside this secure drive is encrypted at rest.  Secure Drives are manageable through the GoldKey Hierarchy, which allows Master Token access of the data if the user is not available.
NIST FIPS 140-2 Validation
GoldKey Tokens have been validated to make sure they meet the NIST standard for FIPS 140-2. Details can be found on the NIST website by following the link below.
http://csrc.nist.gov/groups/STM/cmvp
Windows & Mac OS X Compatible
GoldKey Tokens are compatible with Windows Vista, Windows 7, Windows 8, Windows 8.1, Windows 10, and with Mac OS X versions 10.5 – 10.11 operating systems.  Third party software is now available to enable smart card services for Mac OS X.
PKI Infrastructure
GoldKey Tokens can also be used in certificate based PKI deployments as a smart card.
For More Information Call: (888) 663-2471
GoldKey Corporation
GoldKey is a US manufacturer and developer of data security and networking products that help governments and enterprises protect their information assets.  A technology innovator since 1994, GoldKey manufactures GoldKey Security Tokens which are deployed by customers in over 40 countries. GoldKey solutions include two-factor authentication, shared access to encrypted files stored in the cloud, and soft-token support on mobile devices.  GoldKey also operates secure data centers and provides custom development and security services.